About Lattice Panels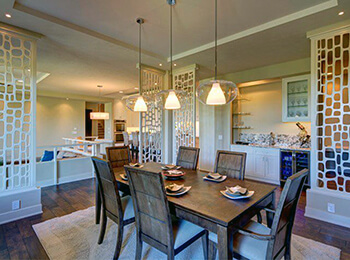 Create an artistic masterpiece and convert ordinary into extra-ordinary with our lattice panel product lines.
Lattice Panels is a business within a business. We are purveyors of high-end custom cabinetry. Our business revolves in high quality materials and workmanship. We have a 10,000-square-foot shop that produces many products all by CNC router and by hand. The computerized router is under the direction of design professionals working to achieve perfection.
We work hard to deliver unusual high quality products such as lattice wall panels, wall dividers, custom wall paneling and accent walls. We have some unique wall dividers in acrylic and plastic with LED lighting. We also work with another company to produce lattice work in metal. We can create full lattice for outdoor applications out of aluminum or stainless steel. We can even combine wood and metal for an exotic interior effect.
Meet The Team
We are a team of dedicated professionals, ready to help you with your next commercial or residential lattice design project.
Dan Brister
Dan Brister, an artist in many forms, has accomplished refinishing on many levels such as cars, boats and sculpture. Dan's past grew from cars to manufacturing of custom catamaran boats for many years where he perfected many concepts of design and manufacturing wood, fiberglass and many other exotic materials.
Dan kept up with custom cars and motorcycles as the years grew and migrated into custom cabinetry after the economy downfall in 2001. Custom cabinetry was the start and the growth of the custom paneling after designing several pieces of art/cabinetry for clients. Dan's goal is to deliver the same high quality standards that he delivers in cabinetry to his current clients.
Our panels are more money than most, but our clients know what they are getting: Nothing short of perfection.
Cesar Forero
Cesar Forero graduated from architecture in 1993, the visual/virtual architectural presentations went from hobby to a great professional adventure for him.
He was part of a select group of professionals in two of the best architectural scale models in Miami (USA) and Dubai (UAE); he participated in the creations of several projects around the world compiling great and value experience in new software, machinery, techniques and materials for a suitable, elegant and professional visual/virtual representation of architectural projects.